A 100-meter-long suspension bridge led us to the other side of the Surian river of the Batanghari river, going into the interior of the forest before finally coming from behind the trees we could find a small settlement of the jungle,the tribe Anak Dalam.
The rain had just stopped, the muddy ground led us to walk between the thatched-roofed huts, not more than ten. We passed the walled houses right in the middle of their neighborhood. Indigenous faces stared at us questioningly, the women were facing the fireplace where there was a cauldron on it. They're cooking something to eat. While under their house is enlivened with the frenzied poultry, dogs and pigs,
The children's rush suddenly rushed past us into a blue tarp that was tied to the branches of a tree to form a tent.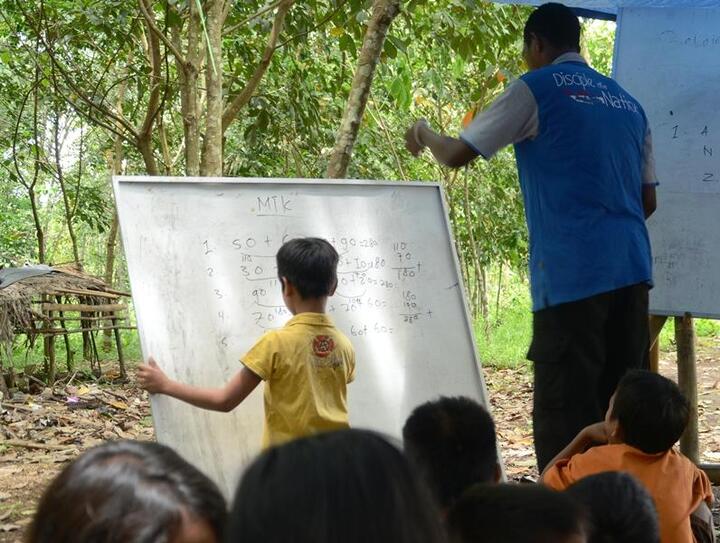 There they sat cross-legged facing Yunus Opahe's back to the blackboard. The look of their eyes radiated a great curiosity.
Children go hunting sometimes with their parents or playing in the creek. That day, we were lucky there were 15 children coming, so no need to bother collecting them, explanation of Jonah. which started its education service here since February 2016.  
Dominggo had taught them to grow crops so they would settle and not move around in the forest. But early June of that year they went on to migrate into the interior of the forest, so Dominggo lost them.
Dominggo was surprised to be happy when a month later he was informed that the group had returned to live in the same place.
Domingo also taught them to grow cassava, and vegetables for daily necessities. In addition Dominggo teaches them to plant hard plants, such as gaharu and rubber that will be able to support their economic life and children in the future.